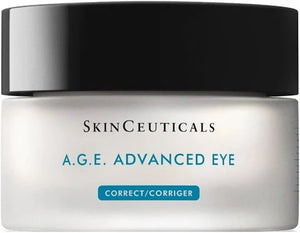 SkinCeuticals A.G.E. Advanced Eye
Due to SkinCeuticals restrictions we are unable to sell this product on our website. The in store price is $116.00 If you select this item and complete check out a member of our staff will call you with more information regarding this products availability. 
A.G.E. Eye Complex has been replaced by this product. 
A.G.E. Advanced Eye is a next-generation eye cream for wrinkles that fights the appearance of crow's feet, puffiness, and dark circles associated with glycation and collagen decline, a major factor of the natural aging process. This silky eye cream for crow's feet is formulated for the delicate eye area with a potent combination of ProxylaneTM, a concentrated flavonoid blend, glycyrrhetinic acid, and Matrixyl 3000. This eye cream for dark circles also includes caffeine and an inclusive blend of optical diffusers to disperse light and immediately improve the radiance of tired, dull-looking eyes across all skin tones.
Twice daily, apply A.G.E. Advanced Eye cream for wrinkles under the eyes following the natural curve of the cheekbone and browbone. Do not apply directly to eyelids.
BENEFITS:

Improves the appearance of

 

10 signs of visible aging

 

in the delicate eye area: crepiness, crow's feet, dark circles, elasticity, firmness, puffiness, radiance, smoothness, tone, and under-eye wrinkles
Delivers 24-hour moisture to comfort dry, aging skin
Paraben-, fragrance-, and dye-free
A.G.E. Advanced Eye cream is packed with more potent levels of ProxylaneTM, wild fruit flavonoids, anti-aging peptides, and caffeine, plus new brightening ingredients, like glycyrrhetinic acid and an inclusive optical effect blend for superior visible results.
Applying eye cream on your eyelids or eyelashes increases the risk of getting cream in your eyes and irritating them. It is best to apply eye cream under your eyes, along the cheekbone and outer browbone.
Eye cream helps to reduce the appearance of dark circles, and wrinkles, like crow's feet. As the skin of the eye area is significantly thinner than the rest of the face, eye creams are designed to offer hydration and deliver benefits specific to the delicate undereye area.
Yes, with its unique combination of brightening ingredients, A.G.E. Advanced Eye cream can help reduce the appearance of dark circles.
Whether you are using A.G.E. Advanced Eye cream to address the appearance of crow's feet, puffiness, or dark circles it is recommended to use it morning and night to see maximum results.