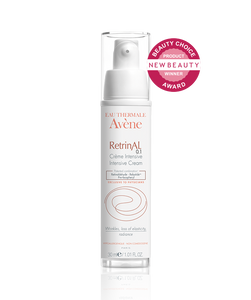 Avene RetrinAL 0.1 Intensive Cream
Regular price $79.00 Sale
Skin Type: for All Skin Types
Clinically shown to visibly reduce signs of aging while brightening and rejuvenating the skin. Enriched with A powerful anti-oxidant and synergy of patented ingredients to plump the skin and restore radiance for a more youthful appearance.
Benefits
Powerful anti-oxidant protects the skin from free radicals
Skin appears fuller, firmer and toned
Improves skin tone
KEY INGREDIENTS
Retinaldehyde, clinically shown to be more effective than Retinol, smoothes away the appearance of wrinkles and brightens the skin 4
Patented Relastide®, a pro-elastin peptide, helps the skin look plumper, firmer and more radiant
Patented Pre-Tocopheryl, a photostable form of Vitamin E, provides powerful anti-oxidant protection against free radicals
Avène Thermal Spring Water soothes, softens and calms the skin
1 Open, non-comparative monocenter study of crow's feet and the peri-ocular zone in 23 women (average of 47 years) after 8 weeks of application of RetrinAL 0.1 Intensive Cream.
2 Clinical study on 34 women using reduction of contrast -- Application of RetrinAL 0.1 Intensive Cream
3 Clinical study -- Scoring by 23 subjects using analog scales -- Application of RetrinAL 0.1 Intensive Cream.